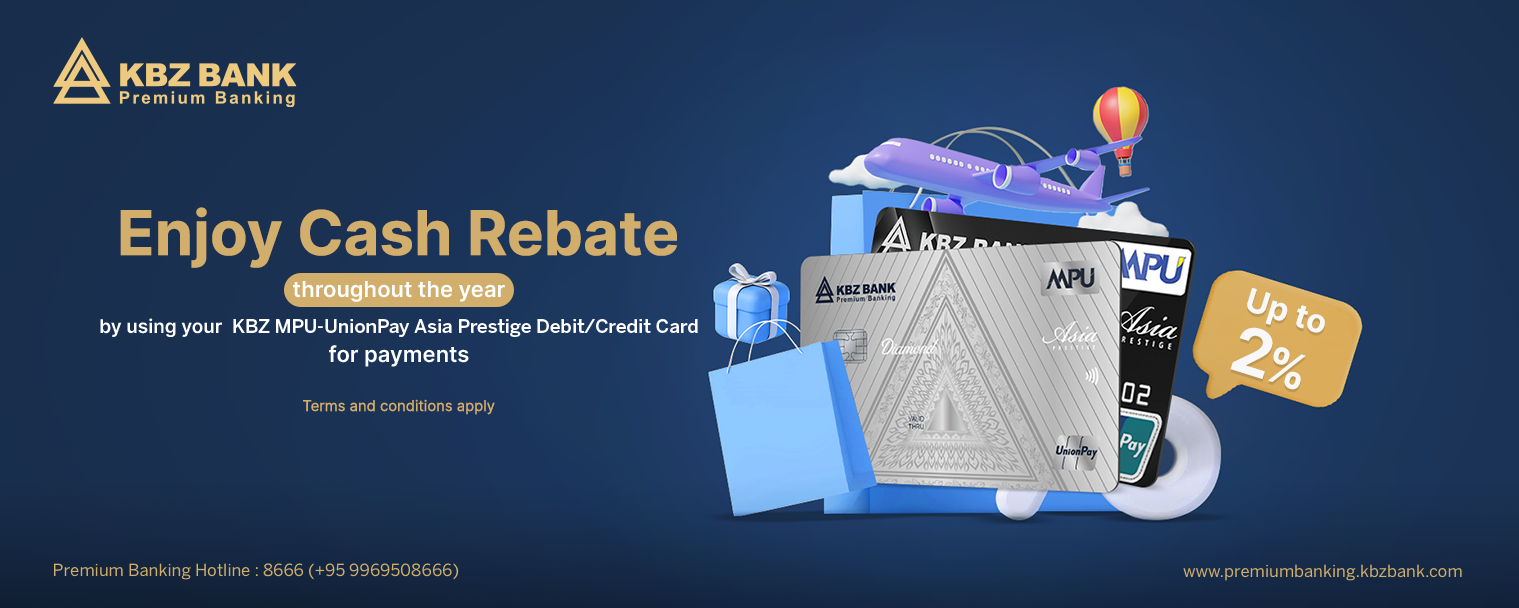 We have an exciting offer for Premium Banking Customers who have a KBZ MPU-UnionPay Asia Prestige Platinum Credit Card or a Diamond Debit Card. With our exclusive cash rebate program, you can earn up to 2% cash back when you use your card at POS machines or E-commerce websites in over 180 countries that are connected to the UnionPay Network. To take advantage of the offer, you must spend at least USD 15 per month on your KBZ MPU-UnionPay Platinum Credit Card and Asia Prestige Diamond Debit Card.
Eligible for refund are:
1% for those who spend at least USD 15 in a month
1.5% for those who spend at least USD 50 in one month
2% for those who spend at least USD 100 in a month
Refunds will be applied to cardholder cards within (10) working days of the end of each month, and this program will be available until 7.4.2024. Apply for the KBZ MPU-UnionPay Platinum Credit Card and Diamond Debit Card at your nearest bank to start enjoying these exclusive benefits.
Terms and conditions apply.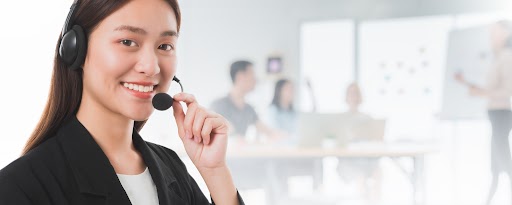 The global COVID pandemic has been a challenge for all of us. Many of our customers are unable or reluctant to visit branches, despite KBZ's vast network of branches and ATM's (the largest in the country).
At KBZ Bank, our top priority is the safety and wellbeing of our customers and the staff who serve them. This has led us to develop a new initiative.
In recognition of your long-standing relationship with KBZ Bank, we have assigned a dedicated VIRTUAL RELATIONSHIP AMBASSADOR (VRA) to you, as one of our most valued customers
The Virtual Relationship Ambassador will be your 'single point of contact' in the bank and will be in touch with you regularly, calling every few weeks to:
Check if all your banking requirements are being met
Enquire if you have had any difficulty in processing any transactions
Offer to resolve any unsatisfactory experiences by working with the different departments within the bank
Share information about any new products and services that the bank launches (there are many new services being planned!)
Provide information and assistance if you have any queries.
VRA SERVICE HOURS
VRA will be available during office hours – 9AM TO 5PM, Monday to Friday
ALTERNATE CONTACT
In addition to your Virtual Relationship Ambassador, you can continue to call our 24-hour Premium Banking Hotline on 8666 (+95 9969508666) for all your transactional enquiries; or
Visit your nearest branch during banking hours
Use our internet or mobile banking services for 24hr digital access
Thank you for your continued support of KBZ Bank. We greatly value your relationship with us.
As the largest bank in Myanmar, KBZ Bank already offers a range of channels and services to offer the best possible experience to our valued customers:
The largest branch network in the country with 500 branches
The largest network of ATMs with over 1200 nationwide
24-hour Customer Care through the Premium Banking Hotline
KBZPay – Myanmar's fastest growing mobile payment network
NEW: Virtual Relationship Ambassadors
In 2020, KBZ Bank has been the honored recipient of several prestigious awards such as
Asia Banking and Finance Awards for Retail Banking and Digital Payment (KBZPay)
Celent Model Bank Awards