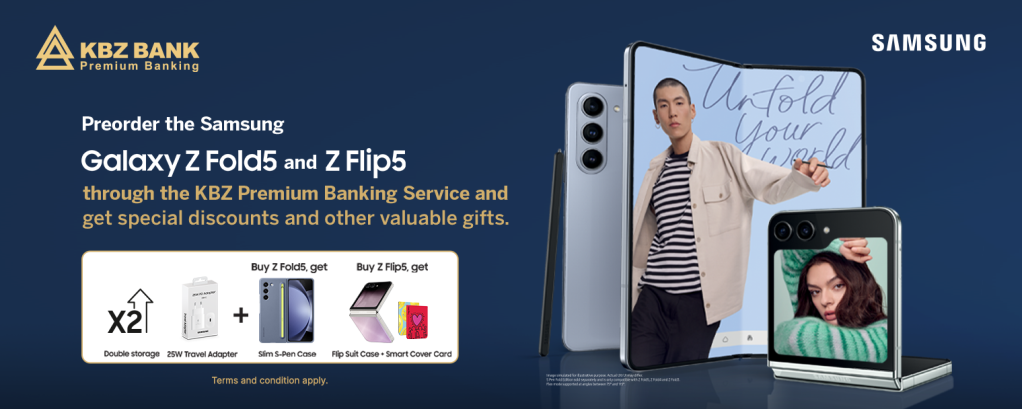 Preorder the Samsung Galaxy Z Fold5 and Z Flip5 through the KBZ Premium Banking Service and get special discounts and other valuable gifts
Dear Valued KBZ Premium Banking Customers, 
We would like to introduce you to an exciting new offer in which you can receive special discounts and gifts when you pre-order Samsung's newest Galaxy Z Fold5 and Z Flip5 phones with KBZ Premium Banking.
When customers pre-order phones, they can enjoy the following extraordinary benefits;
There is no need to make a deposit of 100,000 kyats to secure the pre order
Able to withdraw before the designated pick-up day.
Get up to 6% discount plus free gifts worth 700,000 Kyat (memory upgrade, travel adapter, and original phone cover for the respective models; Flip5 with an S-Pen holder cover and Fold5 with a flip suit case and a smart cover card ).
When you order through KBZ Premium Banking Service, you will receive 20,000 mAh Power Banks as a free gift.(For the first 20 customers only)
Please be informed that the pre-order period will be starting from 27th July until 17th August.
If your order is placed through KBZ bank Premium Banking, an early pick up is available.
So hurry up and make use of this amazing offer and place your order for Samsung Galaxy Z Fold5 and Z Flip5 now through your respective/designated Relationship Manager.
Terms and conditions apply.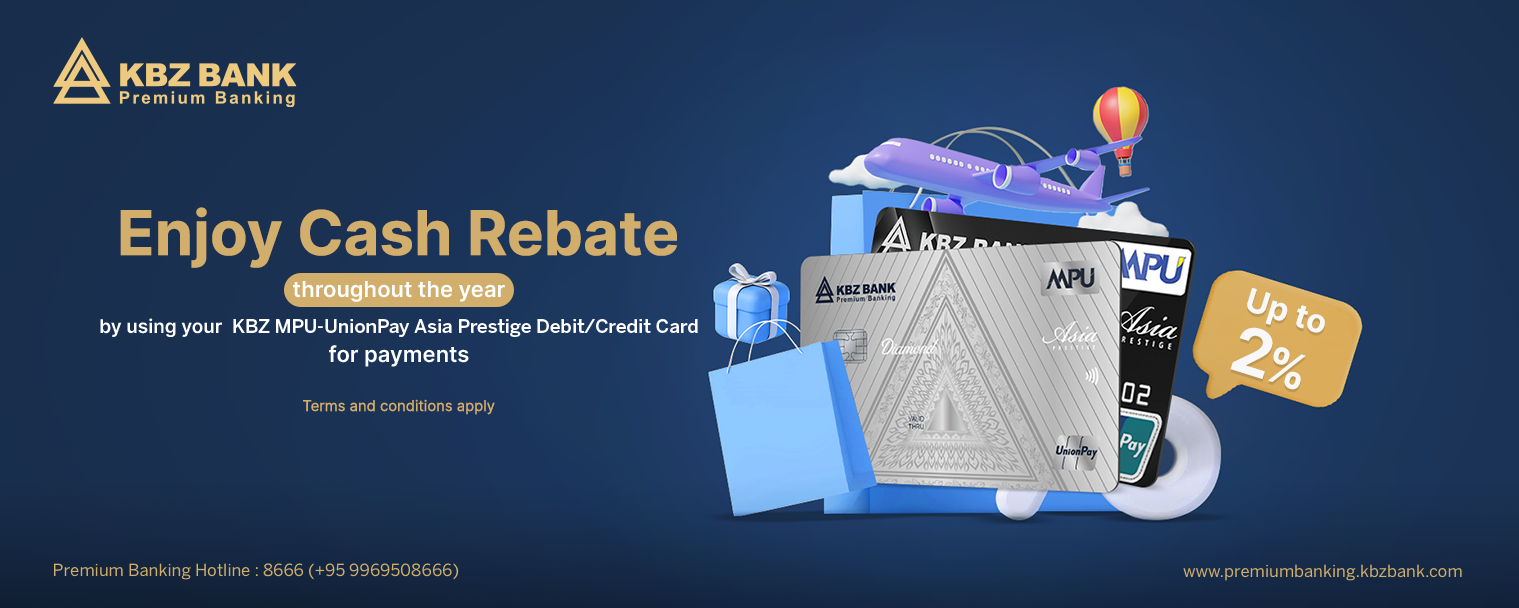 We have an exciting offer for Premium Banking Customers who have a KBZ MPU-UnionPay Asia Prestige Platinum Credit Card or a Diamond Debit Card. With our exclusive cash rebate program, you can earn up to 2% cash back when you use your card at POS machines or E-commerce websites in over 180 countries that are connected to the UnionPay Network. To take advantage of the offer, you must spend at least USD 15 per month on your KBZ MPU-UnionPay Platinum Credit Card and Asia Prestige Diamond Debit Card.
Eligible for refund are:
1% for those who spend at least USD 15 in a month
1.5% for those who spend at least USD 50 in one month
2% for those who spend at least USD 100 in a month
Refunds will be applied to cardholder cards within (10) working days of the end of each month, and this program will be available until 7.4.2024. Apply for the KBZ MPU-UnionPay Platinum Credit Card and Diamond Debit Card at your nearest bank to start enjoying these exclusive benefits.
Terms and conditions apply.
Safe Deposit Locker List
Our Safe Deposit Box can be used to safely store your jewelry, important contacts, documents, and other valuable possessions.
| No | Branch | Size | Yearly Charges (MMK) | Address |
| --- | --- | --- | --- | --- |
| | | | Premium Banking Diamond Customer | |
| 1 | Kamayut Branch (1) | 5″x5″x22″ | FREE | No(615/1), Pyay Rd, KMY Tsp, YGN. |
| | | 5″x10″x22″ | 25000 | |
| | | 10″x10″x22″ | 50000 | |
| 2 | Kyuntaw Road | 3″x10″x21″ | FREE | Unit (1), Junction Square Compound, Kyunntaw Rd, Sanchaung Tsp, Ygn. |
| | | 5″x10″x21″ | 25000 | |
| | | 10″x10″x21″ | 50000 | |
| 3 | New University Avenue Road (2) | 3″x10″x22″ | FREE | No-130,New University Avenue St,(9)Qtr,Kamaryut Tps,Ygn. |
| | | 5″x10″x22″ | 25000 | |
| | | 10″x10″x22″ | 50000 | |
| 4 | Mandalay (7) (80th St) | 3″x10″x22″ | FREE | No(462), 80 th St, Between 28 th - 29 th st, Chanayetharsan East Qtr, Mandalay |
| | | 5″x10″x22″ | 25000 | |
| | | 10″x10″x22″ | 50000 | |
| 5 | Naypyitaw (1) | 5″x4.8″x23.5″ | FREE | No.1, Bank Ward, Oaktaya Thiri, Naypyitaw |
| | | 10.5″x3.5″x23.5″ | FREE | |
| | | 10.5″x4.8″x23.5″ | 25000 | |
| | | 10.5″x10″x23.5″ | 50000 | |
| 6 | Naypyitaw (2) (PAUNG LAUNG ) | 5″x5″x22″ | FREE | No.259-A, Yarzarhtarni St, Ywar Kok Qtr, Paung Laung-2, Pupathiri Tsp, Naypyitaw. |
| | | 5″x10″x22″ | 25000 | |
| | | 10″x10″x22″ | 50000 | |
| 7 | Naypyitaw (5) | 5″x5″x22″ | FREE | No.(S-261,S-262.S-268,S-269)၊ Yaza Thingha Rode, Thapyaykone Quarter, ZabuThiri Township, Naypyitaw. |
| | | 5″x10″x22″ | 25000 | |
| | | 10″x10″x22″ | 50000 | |
| 8 | Taunggyi (1) | 3″x5″x22″ | FREE | No(254), Bo Gyoke Rd, Kan Shae Qtr, Taunggyi |
| | | 3″x10″x22″ | FREE | |
| | | 5″x10″x22″ | 25000 | |
| | | 10″x10″x22″ | 50000 | |